Junior Roller Hockey
The thing about roller hockey in the UK is it is not really well known.IF you thought Ice hockey was not well known then roller hockey has got an even lower following.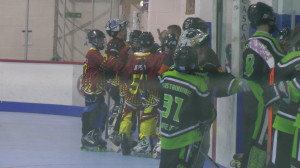 Unlike football and cricket, roller and ice hockey are considered a minority sport at the best of times and with fewer rinks around the country to play from makes it even harder for youngsters to get into this great sport. Take roller hockey for example, although ice is not required there are only two to three major rinks in the country that I am aware of.
One is Simply skate in Rotherham and the other in the south in Bisley.Only a recent new comer to the scene is the Midlands roller arena that has pooped up in a village called Ashbey Parva which is just north of Lutterworth. This rink is so out the way that you will need to own or hire a car or other vehicle to get to it However many a skater has found it and even the disco nights have proved quite popular. With only two major leagues too, BIHA and GBHA for the inline roller hockey scene there is a lot of scope for this sport to get bigger and more well known. To see more Roller Hockey videos Click Here
---