Saab 9-3
Owning a Saab 9-3 I have realized how lovely these cars actually are. These cars have one of the best turbo engines out which are so smooth and powerful for the size of the unit. OK so by today's standards they are probably not the most economical engine you can run, but for what you can pay for these cars these days the saving you make on buying in the first place make up for the odd pennies or so you will save on fuel economy with the cost of say buying a German brand of car.
Unfortunately buying a brand new Saab is no longer possible these days as the company has now gone out of business. It was said that Saab spent so much money on each car making it safe that they lost money on every car that they made. The Saab 9-3 had thicker metal than many other car manufactures for safety reasons and so everything cost more to make. It was said that even when General Motors took Saab over and the second generation Saab 9-3 was made, Saab were still spending so much more money on the new model even though it was based on the Vauxhall Vectra that there was very little components left from the Vectra base car that were used on the 9-3.
Buying a Saab 9-3 today is still a good bet because there are still a range of parts available to keep these cars on the road yet for the price you can cruise along in comfort and styling although not in Porsche  terrotary is quite nice if you go for the Areo model.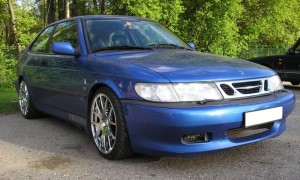 The first generation of Saab 9-3 saw the most sort after Viggen model which is becoming quite a collectors piece. The first generation Saab 93 uses the petrol H  engines on all of these cars and are quite strong and as long as they are serviced properly they can go on for ever. Watch out for items such as the head bolts being torqued down properly to stop head gasket failure.
Another thing to be wary of with these engines is if you ever seem to be smelling oil in the car, then it is possible that the rubber pipe on the PCV control system which can perish. this pipe is hidden at the rear of the engine and is only properly visible once you pop the top cover off which surrounds the oil filler cap. Not only does its PCV hose cause issues with the smell of oil in the cabin but if the loose bits of rubber fall into the oil sump it will block the oil pick up and stop the oil flowing around the engine. The only thing to do then is drop the sump, clean every thing out and put it all back together again with fresh oil.
---