Bradwell Abbey Milton K

eynes

One of the older villages engulfed within the city of Milton Keynes is Bradwell Abbey. With the remains of the Abbey still there, you will also find the Milton Keynes Discovery centre there as well a large modern industrial estate.



The Abbey


The Priory was established around 1154.[2] It grew during the Middle Ages to became an important local centre, but declined during the Black Death when, amongst others, its prior William of Loughton died.[2] The Priory was closed in 1524 (some 12 years before the general dissolution of the monasteries).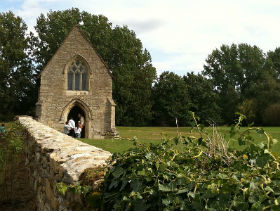 Today, Bradwell Abbey is an Urban Studies Centre,library and guidance for visiting international town planners and students who wish to study Milton Keynes. It also hosts school visits to see its medieval buildings, the chapel is Grade I listed[4].It now provides a meeting space to local community groups.



The Discovery Centre Bradwell Abbey





Milton Keynes City Discovery Centre informs visitors about urban geography and new city planning - as well as the historical and natural heritage of Milton Keynes. Since 1992 Milton Keynes City Discovery Centre has been based at the beautiful and important ancient site of Bradwell Abbey in Milton Keynes.

Milton Keynes
City Discovery Centre
Alston Drive, Bradwell
Abbey, Milton Keynes
MK13 9AP
Tel: +44[0]1908 227229

information@mkcdc.org.uk