Wolverton is a constituent town
of Milton Keynes north
Buckinghamshire. Wolverton being
at its northern edge, between Stony

Stratford and Newport
Pagnell.
It is the administrative seat of Wolverton

and Greenleys civil parish.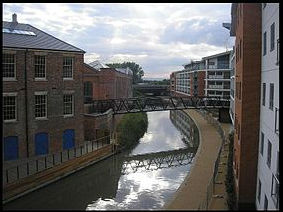 Recorded in Domesday, Wolverton


suffered badly in the Enclosures,


before reinventing itself as a railway
town in the industrial revolution .


The Grand Union Canal passes
around the northern and eastern
edge of the modern town. The canal


originally crossed the River Great


Ouse by descending 10 metres to the


river by nine locks, crossing the river


on the level and ascended by eight
locks on the other side.




Find Wolverton Agora

In 1836 Wolverton was chosen
as the site of the locomotive
repair shop at the mid-point of
the London and Birmingham
Railway then under construction.
During the 1980s, the decline of
the railway works led to the
diminution of Wolverton's tight-knit
railway community.
Today Wolverton has a mixed race
community with many of the original
still living in the town.